… because medical insurance may not be enough!
As an expat living in the United Arab Emirates, you are covered by medical insurance - however, have you considered the impact a serious illness or accident could have on you/your family's finances?
The following video demonstrates the need for critical illness cover.
… protecting what matters
Nobody likes to think about the possibility of suffering from ill health. However, you need to consider the financial consequences of surviving a serious illness or accident.
Results of a Financial Survival survey reveals that 57% percent of the UAE workforce are insufficiently financially prepared to survive three months in the event of contracting a critical illness requiring them to leave their jobs. Startlingly, over a quarter of respondents report that they would not even survive a month. Click here to access the infographic.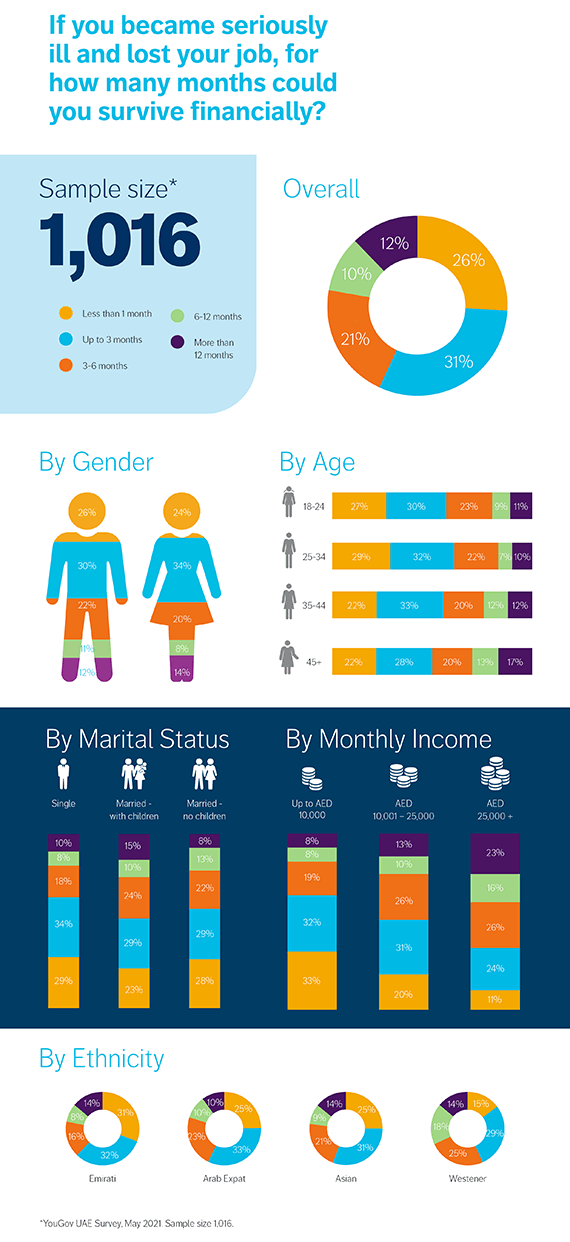 Would your loved ones be able to cope financially and maintain their lifestyle if you were no longer able to work?
Would your employer support you financially if you were being treated for a serious illness?
Would you be able to afford the care you may need if you become disabled?
Would you be able to afford modifications to your home to help with the consequences of an accident or serious illness?
Would your children be able to complete their education if you were unable to meet the school fees?
If you answered 'no' to any of these questions, you should consider arranging a protection plan that can help you cope financially if your circumstances should change.
Next Steps
To help achieve your financial goals, it's important that you get independent financial advice. You can only buy our products through a financial adviser, so please speak to yours for guidance. They will help ensure your plans are tailored to meet your needs.
About you (for UAE residents only)
About you (for UAE residents only)